Saturday Night Live has worked as a launching board for many film stars and entertainers since it debuted in 1975. Although the format and content of the show has shifted over the years, the aesthetic appeal and purpose has remained the same. Saturday Night Live is now, and has always been, a place where performers hone their craft while in preparation for bigger and better things. On occasion it actually works out this way and the members explode in to stardom, but quite often after the members leave the comforts of Rockefeller Center and the consistency of the 11:25 slot they sink in to obscurity.  Even worse than obscurity, they find themselves in the purgatory of guest spots on ABC family situation comedies and stand up gigs in Branson, Missouri.
Joining the cast of SNL does not guarantee future show business success, for every Jon Lovitz there is a Finesse Mitchell (a cast member on the show from 2003-2006…THREE years and you've probably never heard of him). A failure to solidify yourself among the all-time sketch show greats does not doom performers to a career of public access, Robert Downey Jr. (failed cast member from 1984-1985) seems to have fared quite well for instance. Inversely, consider the career of alum Darrell Hammond, former cast member from 1995 to 2009. In retrospect, we should have viewed his inability to break from the show after a decade as a sign that there was not much else out there for the impressionist. Hammond, best remembered for his unforgettable Bill Clinton, has struggled to find himself in a post SNL world, returning for multiple guest spots on the show before releasing a memoir that details his life as an abused child and alcoholic. The point being, post SNL careers can never be predicted.
This list will detail the cast members who experienced the most success in film after leaving Saturday Night Live. Overall success in the entertainment industry (television, commercials, stand up, and political careers) will not be taken into account, thus negating beloved alums like Amy Poehler, Tina Fey and Al Franken. Success is a relatively ambiguous term, as success for me might mean going through an entire day without spilling coffee on my shirt, while for someone like Adam Sandler it means producing an acclaimed film with a high box office gross (at least this is what success used  to mean to Sandler). Alumns careers after SNL, specifically how successful they have been, will be determined using the following criteria: the number of films they have appeared in, the quality of the films they have appeared, their growth as a performer, and their consistency over the years (i.e. have they remained relevant or disappeared and come back multiple times). Former cast members who appeared on the show for under two years will not be taken into account, apologies to Chevy Chase and Billy Crystal.
5. Mike Myers
Mike Myers appeared on SNL for six seasons spanning from 1989-1995. His best remembered roles include; Wayne Campbell of Wayne's World fame, Dieter, Coffee Talk's Linda Richman, and Pat Arnold of the (da) Chicago Bears super fans. Myers was a member of the very talented early 90s cast that included legendary alumns Chris Farley, Adam Sandler, Phil Hartman, and Dana Carvey.
Mike Myers ought to be nicknamed "The Franchise" (he is much more deserving of this title than ex-NBA guard Steve Francis) because of his penchant for producing films that spawn such commercial success multiple sequels are needed and desired.  Myers' first successful franchise came with the 1992 SNL adapted film Wayne's World, opposite Dana Carvey. Wayne's World was a surprise hit among audiences and brought Myers brilliance to wider audiences. In 1993 a (slightly lesser) sequel was released. In 1997, Myers again rose to prominence with swinger/shagger Austin Danger Powers in Austin Powers: International Man of Mystery. The Bond parody was followed up with Austin Powers: The Spy Who Shagged Me in 1999 and Goldmember in 2002. Myers headlined the Austin Powers series, but also took on the secondary roles of Dr. Evil, Fat Bastard and Goldmember. The final, and most commercially successful, franchise that Myers took part in was the animated Shrek series, appearing in four films over the course of the 2000′s. Myers films have grossed over two billion dollars worldwide, placing him third among cast members with more than two years of SNL experience.
4. Bill Murray
The increased popularity of Bill Murray since the early 2000's is something of an enigma. Murray has been the beneficiary of becoming something of a male muse for Wes Anderson since they first worked together in Rushmore in 1998. Long before Murray gained "coffee shop" appeal, he was a cast member of SNL. From 1977-1980 Murray appeared on the show and was given an Emmy Award for his work. He was one of the few bright spots of late 70s SNL. Following his departure from the show Murray found success with roles in Meatballs, Caddyshack and Ghostbusters in the 1980′s.
The 90′s, too, were quite good to Murray with unforgettable roles in Groundhog Day and the (severely underrated) Kingpin. The Wes Anderson-Bill Murray friendship has only aided Murray's appeal among audiences, where he has taken to playing the bizarre and quirky supporting role with much zest in films like Moonrise Kingdom and Rushmore. His Oscar nomination for Lost in Translation does not hurt his case either. Murray has grossed over 1.5 billion dollars in his career. The only knock against Murray and why he is not higher up on this list is his lack of leading man roles. Bill Murray has excelled at playing the supporting role and has had some excellent leading man roles to his credit, but he has never been able to carry a film in the ways the top three men on the list have. The commercial flop of last years Hyde Park on Hudson is evidence of this.
3. Adam Sandler
Adam Sandler was brought on the Saturday Night Live scene in 1990 as a writer, but eventually transitioned to performing where he flourished for five seasons. Sandler is best remembered for his Weekend Update performances of the Chanukah Song and the Thanksgiving Song, as well as his Lunch Lady Land performance with Chris Farley and the Canteen Boy sketch with ( a much thinner) Alec Baldwin.  While Sandler was always a consistent and talented performer, he was never considered to be in the upper echelon on SNL talent while on the show, which is why NBC saw fit to release him after five seasons.
Sandler experienced mainstream success immediately following his release from the show with the Billy Madison in 1995 and Happy Gilmore in 1996, arguably his two most popular films. He also hit the big time with The Wedding Singer in 1998 and received acclaim for his dark performance in Punch Drunk Love in 2002, a role that earned him a Golden Globe nomination. Sandler has always been scrutinized for his acting ability, but his work in films like the aforementioned Punch Drunk Love, Spanglish, and Reign Over Me clearly illustrate his onscreen talent. In addition to finding success as a film star, his production company Happy Madison Productions has been very profitable and produced a high number of his films, as well as films starring his former SNL co-stars Rob Schneider and David Spade. Sandler has been marred of late by his role choices, with flops like Jack and Jill and That's My Boy. However, we must not let a poor past few years deconstruct a successful career. Sandler's films have grossed over two billion dollars worldwide, placing him fourth among cast members who were on SNL longer than two years. Not bad for a guy that was fired.
2. Eddie Murphy
Murphy appeared on SNL from 1980-1984 and is largely responsible for salvaging the show from the trash heap that it had become in the last 70's. Murphy is probably best remembered for sketches including; adult Buckwheat, Mr. Robinson's neighborhood, and cynical Gumby. It was while he was at Saturday Night Live that Murphy appeared in 48 Hrs. opposite the gravelly-voiced Nick Nolte. The film was a surprise hit and a stepping stone for Murphy to appear in Trading Places in 1983 and Beverly Hills Cop in 1984.
It was Beverly Hills Cop (originally written for Sylvester Stallone) that catapulted Murphy into stardom, after grossing over 230 million dollars worldwide and proving to studio executives that the former SNL cast member was a bona-fide star. Following the success of the first Beverly Hills Cop installment, Murphy appeared in The Golden Child, Beverly Hills Cop II, and Coming to America. After a string of failed films in the early 90's, Murphy returned to his former glory with the 1996 hit the Nutty Professor where he took on multiple roles (frequently playing multiple characters in the same scene) and reminded audiences just how comedically talented he was. However, consistency has never been a strong suit of the former SNL star, as he once again struggled to find a hit following his role as Professor Klump. Murphy's post millennium resume is unique, to say the least, as he traded off blockbuster hits (Shrek) with commercial failures (Meet Dave, Norbit, and 1,000 Words). His success as a SNL alumn cannot be argued, as he is not only the highest grossing SNL alumn of all time, netting nearly four billion dollars over the course of three decades. He was also nominated for a Best Supporting Actor Academy Award in 2006 for his role in Dreamgirls (he lost to Alan Arkin).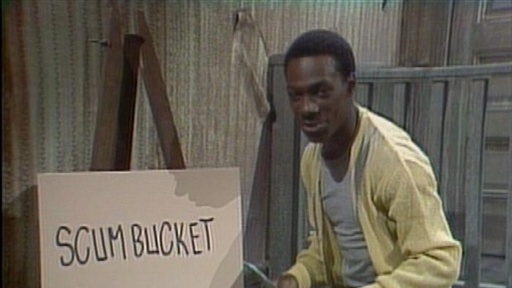 1. Will Ferrell
Ferrell appeared on SNL from 1995-2002. He is best remembered for portraying the naive Spartan Cheerleader, Alex Trebek on Celebrity Jeopardy, and giving a little too much cowbell as a member of the Blue Öyster Cult. In 2001, Ferrell became the highest paid cast member of all time when he was given an unprecedented 350,000 dollars for the season.
After leaving the show Ferrell experienced immediate success with break out hits Old School and Elf. Ferrell has appeared in 43 films since leaving SNL and although they have not all been critically acclaimed, he has produced more memorable roles than any cast member of the past 38 years. Ron Burgundy, Ricky Bobby, Jackie Moon, and booze hound Frank "The Tank" all find themselves on a short list of the funniest comedic characters of the past decade. His box office gross is hedging on two billion dollars and with the high volume of films Ferrell appears in, one cannot help but think that he will eventually surpass Eddie Murphy as the highest grossing SNL alumn of all time.
Honorable Mention: John Belushi (Animal House and Blues Brothers), Dan Aykroyd (Ghostbusters and Blues Brothers), Chris Farley (Tommy Boy and Black Sheep) and Joan Cusack (Far more films than you could ever imagine).
We would love to hear your opinions on the list. Please comment below.